We rolled into Madurai late Saturday night.  Next morning we attended one of the larger churches in the area. Sal spoke at the third service. On Monday we conducted a pastors conference there with about 140 in attendance. These men were from 5 different fellowships in the area.
Madurai is known as the city that never sleeps. The markets are open day and night. It is also home to one of India's most famous Hindu temples, Meenakshi Amman Temple. People make pilgrimage here. They will travel barefoot literally for weeks in hope that the gods will find favor and bless them. It is a sad reality of a belief system that holds no power or truth.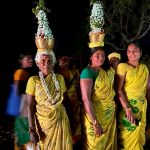 "….but their idols are made of gold and silver, they are made by hands of men. They have mouths, but cannot speak, eyes, but they cannot see; they have ears, but cannot hear, noses, but they cannot smell; they have hands, but cannot feel, feet, but they cannot walk; nor can they utter a sound with their throats."                                                                                                          Ps 115:4-7
Upon concluding the conference in Madurai we traveled about three hours by car to Palani for a pastors and pastors' wives conference. Palani is a highly populated Hindu area. There are many small villages here that have not yet been reached with the Gospel. The churches are badly persecuted. Pastors have a tough time and many of them suffer greatly for their faith and ministry. But the churches are strong and bold in defense of the gospel. They are tiny but mighty.
"Be on guard. Stand firm in the faith. Be courageous. Be strong. And do everything with love." 1 Cor 16:13-14
On Wednesday it was a true privilege as we traveled to Coimbatore to a church that has never had a foreigner come to conduct a conference. Sal spoke on Walking Worthy in session 1 and The Return of Christ in session 2. There were over 200 inside the church and others were standing outside and watching through the windows.  A pastor shared with Viju that he has never preached on Revelation or the End Times. He said Pastor Sal awakened him to the importance of teaching his people. Our hope and prayer is that pastors like him would commit to studying and teaching their congregations the Book of Revelation.
"God blesses the one who reads the words of this prophecy to the church, and he blesses all who listen to its message and obey what it says, for the time is near."                                                                                                                              Rev 1:3 NLT
There were lots of young couples attending with little children from new born to preschool ages. I especially enjoyed playing with them. Indian churches typically do not have childcare or nursery so children are used to spending long hours at church.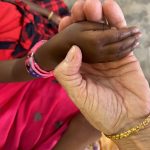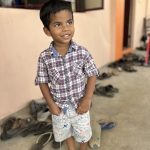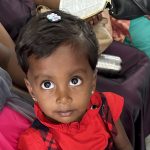 We left Coimbatore this morning and made our way over the mountain (28 hairpin turns), through Ooty and down the mountain (36 hairpin turns) where we will spend time with the widows. There will be many new faces in the group since we last saw them. We have a light conference schedule while in the area. It's a welcome break and a needed rest.
Time is going fast now. One month has flown by and one month to go.
Please pray for Sal. Though he recovered from the cough he had last month, it appears he may have strained his abdominal muscles. Tomorrow he will have a scan to rule out hernia.