This week has literally flown by. It is an understatement to say it was the best School of the Bible we've conducted here since 2013. The students were very interested in knowing all they could about how to study the Bible, how to put together an excellent message and how to handle the challenges of being a church leader. Sal has amazed me once again with his ability to teach four sessions a day. His voice has held up well and he just does not run out of steam. My part has been to teach one session at day. The topic is a Study of Psalm 1. Also, I am behind the scenes keeping things running smoothly with sound and technology.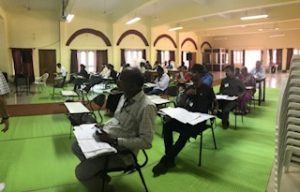 The students are a diverse group of people from all areas of India. For instance, there are 5 young YWAM missionaries from Mysore, four pastors, several evangelists, Bible vision missionaries and lay leaders. One young man, Joshua, is a photojournalist who has a burden to produce Christian films for India. He desires to go back to Bible College to get his doctorate in Apologetics so he can produce quality films that rightly handle the word of God.   Our faithful friend, Monohar, is also here with his wife. He is a Christian illusionist who cleverly shares Biblical precepts through his magic act. The student that has touched my heart the most is a man named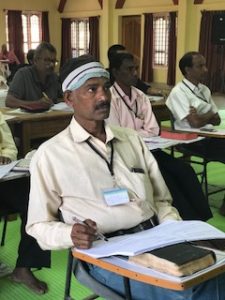 Karunakara. His head is wrapped in bandages and covered with a ski cap. Just five days before the school began he underwent brain surgery to remove a tumor. He was not sure if he could attend but he prayed for God to make it possible. He is attending, participating and not missing one minute of class. He has no pain and he sleeps well all night. Thirty people in all have come from at least 6 different states to attend. We are humbled by the respect they show us, the kindness and hospitality.
Tomorrow is the last day of classes. By Saturday the students will be gone and we'll be headed to Ooty early in the morning for a one-day End Times seminar. Next Tuesday, Sal is invited to speak at a Pastors' Seminar in Gudalar. We're told over 100 will be attending.  After that, we have 6 days to rest and recover before heading up to Mumbai for a three day conference on the Tabernacle and End Times. While there, Sal will also give the address to the graduating class of Faith Bible College.
Teaching through Psalm I, I've found it interesting that God has given us a beautiful formula for serving and producing eternal results. Verse one defines the character of the one who is blessed by God. The blessed by God take great pleasure and delight in the Scriptures (verse 2). The blessed by God can't get enough of God's Word. They will think and meditate on it day and night (verse 2). The blessed by God will bear good fruit and distribute it in the world (verse 3). The Blessed by God will enjoy spiritual prosperity (verse 5).
That is my heart's desire.