It has been 24 hours since the conclusion of Christmas in the Jungle. I am still in the processing mode. Some would call it writers block. But honestly, I don't even know how to explain what the team took part in yesterday. Amazing, awesome, miraculous, life-changing and the best Christmas ever are some of the words I've collected from our Lake Country Team.
The day started early morning as villagers began coming into the camp. Some walked for miles just to get here. As Sal and I walked the grounds, we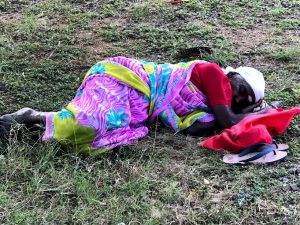 came upon a lady sleeping in the grass. By 11 AM the camp was bustling with hundreds of people. One thing that was very obvious was that the crowd was mainly made up of women and children. Where were the men? We don't know except the same is true in the churches here as well. Our prayer is that God would reach these men through the faith of their women who are searching for peace and joy that only a relationship with Jesus can provide.
We were able to meet with a number of children and give them new clothes. We then taught them some gospel songs. They caught on quickly to the words and the sign language and sang at the top of their lungs.
The main program was presented at the Grace Corner Hall. Over 500 were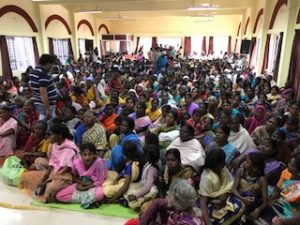 seated. The program included Christmas songs sung by a local Christian artist. She was accompanied by her husband on the keyboard and her daughter on the guitar. She also shared her testimony. Having been raised a Hindu, she never knew about Jesus. Someone gave her a Bible and after reading it, she made a decision to follow Christ the rest of her life. The gospel was presented throughout the 2 hour event. We don't know how many might have made a decision, but a number of women paid a small amount of money to purchase a Bible and a Book to help them know more about Christianity. Thomas Samuel always says, "A Bible in a Hindu home is like a spiritual time bomb!"
At the conclusion of the Christmas program, the people were taken to the dining area where they were served a traditional Indian meal.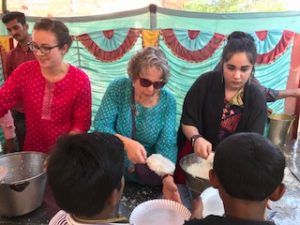 Brad handed out paper plates while people lined up for the food. Vikki, Harold, Sofie and Sabrina filled plates with rice and chicken curry, while the Ryan's filled water glasses from a huge plastic tank. Lilly and Emily had great fun handing out candy to children and adults alike.
By 3 PM we were headed back to Mercy Hall and began piling up saris and blankets for distribution. The team took their places behind a long table filled with these gift items. Each recipient was free to take either a blanket or sari. The people were led up in an orderly fashion and for the most part the line kept moving, though it took over an hour to complete. I stood at the exit door hugging some and shaking others hands. The people were so grateful for the gift they received. For most of them it is the only gift they would receive all year.
So what is my personal take-away from Christmas in the Jungle? I saw pure love in action. The amount of work, preparation, money and sacrifice that goes into a project like this is motivated by pure love. I am personally challenged to love more. Love until it hurts. I think that is what Paul was talking about when he wrote to the church in 1 Thess 4:9-10: But we don't need to write to you about the importance of loving each other, for God himself has taught you to love one another. Indeed, you already show your love for all the believers throughout Macedonia.  Even so, dear brothers and sisters, we urge you to love them even more.