It's late Sunday night and I need to record my thoughts before I crash. Our final conference begins tomorrow in Bellary. We checked into a hotel here yesterday.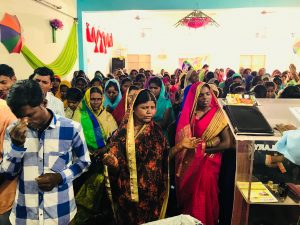 Sal has preached each Resurrection Sunday for twenty years. Today was no different except he preached four times in four different churches. We arrived at the first church which was packed with people. The crowd spilled out the side doors and literally into the street. Sal was ushered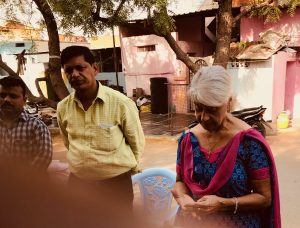 through the crowd to the altar while I took a seat on the street and prayed I would not be struck by an auto rickshaw.
As soon as he concluded the message we were quickly chauffeured to the next church which met in a school hall. It was a full house but at least I was seated inside. After Sal ended the message and with no time to spare we made our way to church number three. We parked in a narrow alley and climbed four stories in a building that looked abandoned. We entered another packed house of happy people singing praises at the top of their lungs. Once again Sal made his way to the front while I found a place to sit in the hallway which was lined with men, women and children. After the service concluded, the entire church shared a meal. We returned to our hotel afterwards to rest.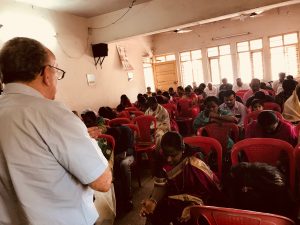 At 6:30 PM we arrived at the fourth church. By this point I jokingly nicknamed Sal The Sermonator! But he humbly gave God the glory for giving him the strength to preach the entire day.
I want to mention here that Bellary has two seasons: hot and really hot. Currently, it is really hot with temps averaging between 95 and 103. The churches do not have AC. Sal preached his best at all four churches and never got tired. After the first church service, he literally looked like someone dumped a pail of water over him.
The message he shared was on forgiveness. At Calvary, Christ prayed for those who crucified him. What a challenging example he presents to believers. There is power in forgiveness. Whether we are doing the forgiving or asking for it, there is power to break down the walls of bitterness, anger and hatred. These Indian churches received the word with great joy. In each church there were moments where they broke out in applause in appreciation for the forgiveness of sins.  I found myself clapping along with them in gratitude for Jesus' prayer of forgiveness that has reached across the centuries and changed my life forever.
Luke 24:46-48  
He told them, 

"This is what is written: The Messiah will suffer and rise from the dead on the third day,

 
and repentance for the forgiveness of sins will be preached in his name to all nations, beginning at Jerusalem.
You are witnesses of these things.
buy footwear | NIKE Chaussures, Sacs, Vetements, Montres, Accessoires, Accessoires-textile, Beaute, Sous-vetements – Livraison Gratuite