Stay flexible! Those are familiar words I have repeated over and over again as mission teams have come and gone these last 11 years. Those words are meant as much for me as they are for others. Once again they have proven that flexibility is very very much a part of the Indian experience. Let me explain.
Today our two team members, Vikki and Harold, left us because of an ongoing health issue with Vikki's eye. The Meyers have been real troopers throughout the last three months. They have been our traveling companions, our behind the scene organizers, our prayer warriors and our friends. They have faced many personal challenges and yet continued to carry-on with us. In late January Vicky's eye condition worsened and she had to be seen at a special clinic in Bangalore which took her away from us for 4 days. Now that condition has returned. With only two weeks left before our scheduled departure to the US, we all agreed it best they return early so she can be treated by her own doctor.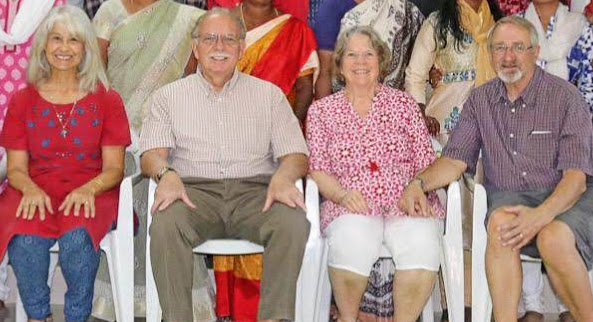 Sal and I will carry on without these two faithful servants, but their fellowship and companionship will be missed. Once again reminding me to stay flexible.
Last Saturday we conducted an End Times conference in Ooty . It was a wonderful day with over 120 delegates. Again the opportunity to stay flexible was given to me the night before the conference when I broke a tooth. By the grace of God, there was no pain. By the grace of God, I was able to see the dentist during the conference hours. By the grace of God, I'm in the process of having the tooth repaired and a crown. Once again, stay flexible!
To me, flexibility means being willing to change direction in order to cooperate with the plans of another. That is an essential character for Christians. Isaiah 55:8-9 tells us, For my thoughts are not your thoughts, neither are your ways my ways, declares the Lord. As the heavens are higher than the earth, so are my ways higher than your ways and my thoughts than your thoughts. Being flexible means bending under pressure while ever mindful that our Sovereign God is in control. We can go with the flow and trust God with the outcome.
Blessed is the man who remains steadfast under trial, for when he has stood the test he will receive the crown of life, which God has promised to those who love him. James 1:12
Authentic Sneakers | Gifts for Runners