The first half of this week has been spent in interview lunches that have lasted 3 to 4 hours. Cross Angle Ministries is hoping to hire a discipleship pastor who can pastor pastors. We are trusting God to raise up the right man. Please pray that God would grant wisdom and discernment throughout the selection process.
Yesterday we traveled two hours to Mysore on a new highway that's been built since we were last here. What a blessing not to have to travel bumper to bumper for four hours on the former road. Something of interest that caught my eye was the construction of a very large idol on the side of the highway. The statue was more than four stories high. And it was covered with scaffolding. It was a god under construction. I was reminded of Deuteronomy 4:28, "And there you will serve gods, the work of men's hands, wood and stone, which neither see nor hear nor eat nor smell."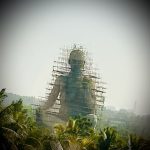 The  structure is harmless in and of itself, but the force behind it holds nearly 1.20 billion people in its clutches. Only 2.3% of the population is Christian.  These believers love the Lord deeply because they understand what it means to be rescued from gods under construction.
"Coming to Him as to a living stone, rejected indeed by men, but chosen by God and precious, you also, as living stones, are being built up a spiritual house, a holy priesthood, to offer up spiritual sacrifices acceptable to God through Jesus Christ." 1 Peter 2:4-5
What a blessing to belong to our God, the God of the Bible, the one true God who is not and never was or will be under construction! Rather He is the architect and builder and we, as living stones, are his co-laborers.