This week we celebrated Sal's birthday. There was the usual favorite meal, cake, candles, and a small gift. But the unique and special blessings of God that came this year, we will never forget. God's gifts are priceless.
A week ago while eating lunch, Sal realized that his wedding band was not on his finger. A thorough search of everywhere he'd been in the last 24 hours began. Literally,  we turned our room upside down. He had thrown grapes into the woods, and so a team of people were scouring the ground in the forest looking for anything shiny that could be his ring. We searched the cars. Everyone was on the lookout!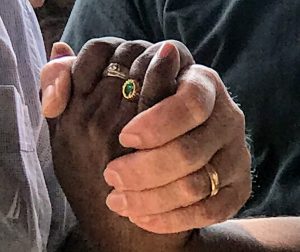 After three days of searching, we went to the village police department to file a report. The police were not completely cooperative. They wanted us to produce a bill of sale. I'm pretty sure we don't have one, since the ring has been on Sal's finger for 50 years. Next they wanted to come to QCI to interview everyone and make sure a robbery had not occurred. We tried to explain we only wanted to report the ring missing and receive an authorization from them, so we could submit it to our insurance company. Finally,  we were sent to the chief inspector who took pity on us and consented to give us the report. That was Monday. We resigned to the reality that the ring was probably lost forever. We both prayed to let it go and thank the Lord for His goodness to us.
On Wednesday, Sal's  birthday, I spoke with the young widows, and during the session my husband wandered into the hall. He started waving his hand at me, and I saw the ring on his finger. I nearly flipped out in front of all the ladies. The ring was lost but now was found. On Monday, one of the pastors had spotted the ring on the road in Masinagudi (a large and busy village). He picked it up and put it in his shirt pocket. He forgot about it until Wednesday. That's when he took a closer look at it, and he knew it was not Indian gold. He wondered if a foreigner had lost the ring. He brought it to Quiet Corner, knocked on our door and asked Sal if it was his. It was!
The incident became an immediate message illustration for me. The Topic was God's Love. I told the ladies God's love for us is so great he can return a tiny gold ring that we would never have found on our own. Eight women stood during the invitation to receive more of God's love in their lives. My sweet friend, Kalpanna, stood and accepted God's ultimate gift of love, his son Jesus Christ. This was a great joy for me. I have been praying for her salvation for two long years. She has been widowed twice and has three children. Now she is happy because she knows that God loves her and he will take care of her.
Sweet Kalpanna

My friend is now my sister in the Lord.
So that was Sal's birthday, celebrated with two priceless gifts that money could not buy.
"The Lord your God is with you, he is mighty to save.  He will take great delight in you, he will quiet you with his love, he will rejoice over you with singing." Zephaniah 3:17
Best jordan Sneakers | Sneakers – ΦΘΗΝΑ ΠΑΠΟΥΤΣΙΑ 2020