Khandhal, nestled high atop Ooty Mountain, is the oldest village in the Nilgiris District.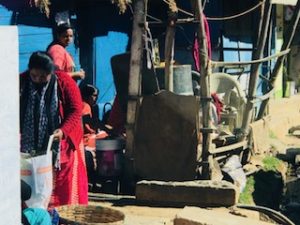 It is officially known as a slum. It was not hard to see why as we was drove down the narrow and broken streets. Poverty is a lifestyle here. Buildings were in bad shape and litter seemed to be sprinkled about like confetti.
I had been invited to speak at a women's meeting at one of the small churches in Khandhal. The pastors from this area had come to the Jesus Conference and invited me to come and speak to the women. They had never had a women's meeting before. They seemed so excited to offer such an event, that I could not refuse the invitation.
As we pulled up to the street, the pastors and church leaders were anxiously awaiting my arrival. I was warmly welcomed and escorted up about thirty steps to enter the church hall. You see, Khandhal is built on the side of the mountain, so there are many steps to climb to enter houses and shops. I found myself thanking God that my 2 year old hip replacement was a success. This tiny church was actually the second floor of the pastor's house. It was one open space about the size of an average living room. My expectation was that no more than 15 women would attend. I was sure we could not fit much more than that. But just as Jesus fed the multitudes with 5 loaves and 3 fish, this small room seemed to swell as women, children and babies came pouring in and taking their seats on the floor. By the time I was introduced there were near 70 women. The place was packed!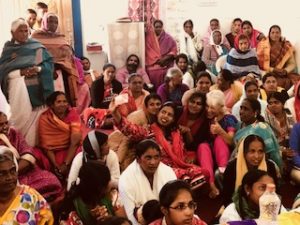 What a wonderful time it was! My topic was  5 Areas Where Women Need More of God. At the conclusion, a few women gave short testimonies of how situations almost prevented them from coming. Each one said they felt God telling them to come to the meeting and not allow obstacles to stand in the way. One woman has been fighting depression. She was not going to come but felt strongly that she should. She was amazed that much of what I shared about my own struggles were similar to hers. She realized that no matter who we are, where we are from or what our lives are like, we all need God to work in us more and more. She felt God had provided the spiritual tools needed to have victory over her struggles.
I must admit that my first reaction to speaking in a small church in a place called Khandhal was not too optimistic. I thought it would be ill attended. I thought these women who live in a "slum" city would not be able to apply the message. I thought they would not be able to relate to a woman who was born and raised in the USA. But those were just my failed opinions.
This is what God's Word says:
Rich and poor have this in common: The LORD is the Maker of them all.  Proverbs 22:2
"I now realize how true it is that God does not show favoritism but accepts from  every nation the one who fears him and does what is right. Acts 10:34-35
Here there is no Gentile or Jew, circumcised or uncircumcised, barbarian, Scythian, slave or free, but Christ is all, and is in all. Col 3:11
Sportswear free shipping | Air Jordan Retro – 2021 Release Dates + Preview , Fitforhealth