The bus pulled away last Friday and suddenly Quiet Corner was truly quiet once again. The MissionIndia 2018 Team left for home after a fantastic two week service trip. Up until the night before, this team was on the constant go and enjoying every minute.
I think the mark of a successful mission trip is that you leave good fruit behind. This team certainly delivered a bushel full in that regard. Through the widows program they reached out in love. Bev and Cari shared their testimonies. The Gospel was preached by Thomas Samuel and four ladies came forward to accept the free gift of eternal life.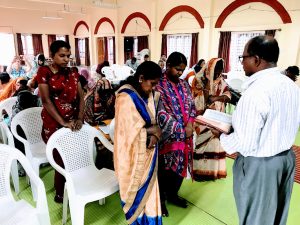 At the Elderly Feeding Program, Gini and Sherri shared their testimonies and two old women came forward to pray for salvation. At the Tailoring School, Cat and Rebecca shared their stories. Each girl asked for the team to pray for their needs. There were many tears shed as they knelt before us, seeking help from the One True God.
An exciting result of the Kids Club Programs is that all three pastors are planning to hold similar events for the kids in their villages about once every three months. They are currently "brain storming" with their church leaders to come up with a plan. Thanks to Cat and the team for providing an excellent program and inspiring the pastors to continue a children's ministry.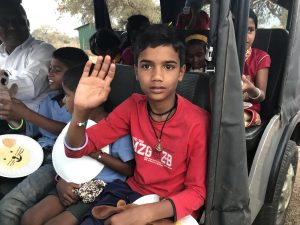 As for Sal and I, we had two very quiet days to rest and regroup. Last night the students starting arriving for the Servant Leadership Bible School. So far there are 25 here. They come from all over India. Most are young men. Three women are attending as well. School started this morning (Monday) and will go through Friday. Sal is teaching four sessions a day and I take one. Currently it is "siesta" time. Culturally, after lunch most of India likes to take a nap. We have found it best to provide a few hours to rest. The students will return at 4 PM ready to go another two hours.
From here on, our schedule is packed with events. I'll post as we go since there is much happening. Time will fly and before we know it we will be heading back to the states and resume our life as "retired" people. God must have heard us say we didn't believe in retirement because we are working full time here. The request for conferences has been amazing. We have had to turn down four invitations. They are penciled in for a return trip in 2019 if the Lord allows.
Sal's life verse is especially meaningful these days:
Trust in the LORD with all your heart and lean not on your own understanding; 
in all your ways submit to him, and he will make your paths straight.  Proverb 3:5-6