As each year passes, this day (March 19) seems to grow sweeter and sweeter to me. It's the day I get to celebrate the life of the man I've spent nearly 50 years with.
He has kept me on my toes though I must admit I can hardly keep up with him. In the past four months, he has spoken to over one thousand people on Biblical topics such as Jesus in the Tabernacle to End Times. He has preached nearly every Sunday, mentored local pastors, conducted a leadership seminar for pastors and church leaders, taught Bible School and prayed with and counseled many.
At conferences, I have watched him teach three sessions a day for three consecutive days. A session lasts anywhere from one hour to two hours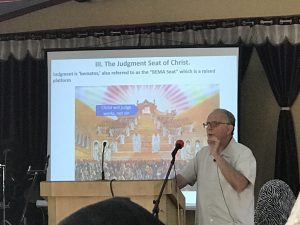 depending on whether translation is needed. I've watched the translators, half his age, have to sit down because their legs were giving out. But he just keeps going! To make it even more challenging, it is now summer here. The last conference was held in Mumbai with an average daily temperature of 90F and 90% humidity.  The chapel was packed with people and the roof was tin with no fans and no AC.  Except for a two hour lunch break, he stood and spoke from morning till evening.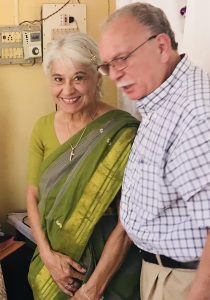 And to top it off: he takes care of me. That in itself is sometimes a full time job. I don't adapt easily to climate change and altitude. And here we are in the Niligris District of India where mountains climb to 7800 feet. I'm not always up to par, yet he is never too busy to attend to anything I might need.
CS Lewis said, "We are never too old to set a new goal or dream a new dream." My husband is living proof of it. We never did believe in retirement, however, we never imagined it would be like this either. Growing older is a blessing to him because there is so much uninterrupted time to serve the Lord and pass His wisdom on to younger people.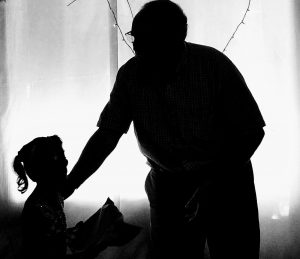 So today, I'm celebrating this amazing man that I get to call my husband.
Happy Birthday, Sal!
Psalm 71:18 Now that I am old and my hair is gray, don't leave me, God. I must tell the next generation about your power and greatness.Buy Sneakers | Nike AIR FORCE 1 KSA (GS) "WHITE" , DB2813-100 , Ietp STORE